As an elected body, Student Government strives to be transparent about its election processes. Here you will find election results for our most recent election, as well as any relevant materials for candidates in future or ongoing elections! For information about elections, please contact Deputy Ethics Justice and Elections Administrator Owen Smith at ons1751@truman.edu.
Spring 2021 Election Information
The Student Government Spring 2021 Elections will occur from 8:00 AM April 19th, 2021, to 4:00 PM April 22nd, 2021. Students can vote at vote.truman.edu. (You will need to be logged into your TruView account to vote.) Election results will be announced on April 23rd at 5:00 PM via Zoom and the StuGov social media.
Want to get a chance to get to know our presidential and vice-presidential candidates and their plans for Truman? Watch the Presidential Q&A Zoom on YouTube! Presidential candidate Shania Montúfar and her running mate, Ethan Kershaw, answer questions asked by Elections Administrator Owen Smith and Diversity Committee Chair Kennedy Cooper on everything from fossil fuels divestment to the definitive 'best' animal.
Elections Handbook for Candidates
Candidates for Student Government may declare their candidacy starting April 5th. Students seeking election to the Student Government should refer to the Elections Handbook (link here) for vital information on all things pertaining to the campaign and election process. Students wishing to support a candidate attempting to gain access to the ballot can fill out the Candidate Nomination Petition.
Declared Candidates and Petition Status
| | | | |
| --- | --- | --- | --- |
| Candidate Name(s) | Position Sought | Signatures Needed to be Placed on Ballot | Met Signature Requirement? (Y/N) |
| Warren Barge | Voting Senator | 25 | Y |
| Santino Bono | Voting Senator | 25 | Y |
| Krishna Chebolu | Voting Senator | 25 | Y |
| Kennedy Cooper | Voting Senator | 25 | Y |
| Alex Crawford | Voting Senator | 25 | N |
| Esther Fox | Voting Senator | 25 | N |
| Josh Grandstaff | Voting Senator | 25 | Y |
| Dan King | Voting Senator | 25 | Y |
| Brenna Larkin | Voting Senator | 25 | Y |
| Sam Myers | Voting Senator | 25 | N |
| Mike Owsley | Voting Senator | 25 | Y |
| Hannah Park | Voting Senator | 25 | N |
| Grace Rowley | Voting Senator | 25 | Y |
| Morgan Sprehe | Voting Senator | 25 | Y |
| Sophia Tulipana | Voting Senator | 25 | Y |
| Mandi Wild | Voting Senator | 25 | Y |
| Erin Woolf | Voting Senator | 25 | Y |
| Joshna Karki | Senior Senator | 25 | N |
| Maddie Meyer | Senior Senator | 25 | Y |
| Emily Smith | Senior Senator | 25 | Y |
| PJ Wuennenberg | Senior Senator | 25 | N |
| Shania Montúfar & Ethan Kershaw | President/Vice President | 50 | Y |
| Olivia Baumann | FAC Student Representative | 0 | Y |
| Kevin Luft | FAC Student Representative | 0 | Y |
| Dylan de Leon | FAC Treasurer | 0 | Y |
| John Marx | FAC President | 0 | Y |
Last updated: April 14, 9:50am
Fall 2020 Election Results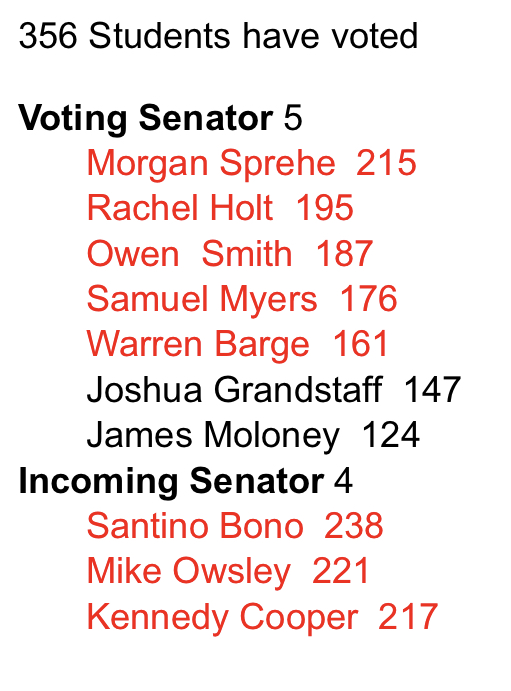 (Because only three candidates ran for the four available Incoming Senator positions, Josh Grandstaff, who fulfilled all the requirements of an Incoming Senator, was awarded the final Incoming Senator position.)