As an elected body, Student Government strives to be transparent about its election processes. Here you will find election results for our most recent election, as well as relevant materials for candidates in the current election! Questions about elections? Email the Elections Administrator at stugovelectionsadmin@truman.edu.
Fall 2023 Election Results!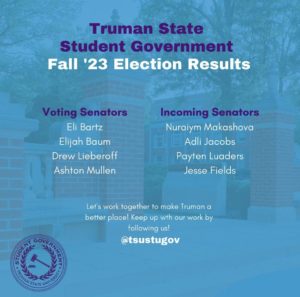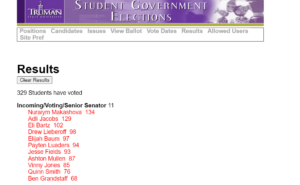 Fall 2023 Election Information
CANDIDATE DECLARATION WILL OPEN ON MONDAY, SEPTEMBER 11TH! DECLARE HERE!
The Student Government Spring 2023 Election will be held from 8am on Monday September 25th 2023, to 4pm on September 29th, 2023. Students can declare their candidacy from September 11th through September 22nd. Students can vote online at vote.truman.edu. Students looking to run for election should refer to the Fall 2023 Elections Handbook, which describes all things pertaining to our campaigning and election process, including important dates and requirements. Candidates should also take a look at our official documents. Results from the election, when completed, will be available below and on the StuGov social media. Any questions should be directed to the Elections Administrator, Alicia Stout at stugovelectionsadmin@truman.edu.
We encourage all students to get involved in StuGov! Joining StuGov gives students insight on a variety of resources and access to influential administrators and staff on campus whom students can work with to create change. We have fall elections in September as well as spring elections in April. If you'd like to get involved in StuGov immediately or without running for election, you can apply for a position over on our Applications page.
Spring 2023 Election Results!